This is what defines us.Providing safe and trusted betting to counter illegal gambling.Committing to be a world-class responsible gaming operator.
Singapore 25 Pools has played an important role in changing the turbulent, risky gambling scene of the 1960s and 1970s. Gambling has always existed in our society in one form or another - from the social to the syndicate. Banning gambling will not erase its footprint - it would drive the activities underground to the profit of triads and bookies whose activities bring crime and violence to society.
As a pragmatic approach, the government set up Singapore Pools on 23 May 1968. On the one hand, to counter illegal gambling activities; on the other, to provide people with a safe and trusted avenue for betting. As a not-for-profit organisation, Singapore Pools channels its surplus to Tote Board to fund worthy causes that benefit the lives of Singaporeans.
Our professional conduct and business behaviours must be upheld to the highest standards, ensuring a fair and safe gambling experience to protect our customers. From our products' design and communication to the way we run our operations day-to-day, we have safeguards in place to help create a responsible gaming environment for all - educating customers about playing with care, playing within their means and dealing with the risk of problem gambling.
Former Social Affairs Minister Othman Wok (centre) points out the finer details of the design for Singapore's National Stadium. The first National Stadium was in many ways the chief rationale for the establishment of Singapore Pools.

Former Finance Minister Mr Lim Kim San supported the idea of a legal lottery for social welfare purposes. He is seen here officiating at the table tennis awards ceremony of the 1968 SEA Games, one of the major sporting events which later benefited from Singapore Pools' donations.

Former Law and National Development Minister and sportsman, Mr E.W. Barker appreciated the benefits that sports would gain from legal gaming revenue. He is seen here presenting a trophy to Singapore soccer star Quah Kim Song, at a 1980s fixture.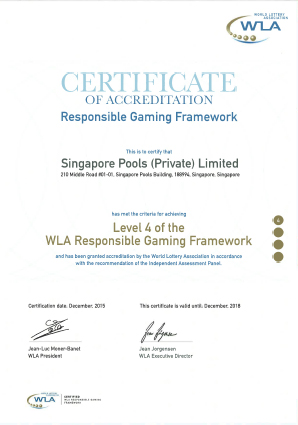 Our communication positioning evolved greatly from the 1960s

In 2004, we developed and implemented our Marketing Communications and Promotions Code of Conduct to ensure that products are communicated in a manner that will not promote excessive or irresponsible play.

Achieved The Highest Global Standard In The Gaming Industry

Singapore Pools achieved World Lottery Association's Responsible Gaming Framework Level 4 Certification in 2012 and the Re-Certification in 2015. We are 100% owned by the Tote Board which reports to the Ministry of Finance. Our betting products and services are regulated by the Ministry of Home Affairs and the Ministry of Social and Family Development. Our sales channels include our network of branches and third-party retail agents located at supermarkets, provision shops, convenience stores and football clubs, as well as 'live' sports entertainment venues. Customers who meet our social safeguards requirements can open a Singapore Pools Account.